Battle Born Fencing Club
Las Vegas
#1 Epee Fencing Club in Nevada
BBFC Updates
For Battle Born Fencing Club news and announcements, scroll down on this page to see the latest Newsletter or click Here for past editions.
At the start of the COVID-19 pandemic and quarantine, participation in almost every sport halted. With restrictions slowly easing, many are resuming, under strict social distancing protocols. However, as facts about COVID-19 remain uncertain, non-contact sports, like fencing for which the only contact is with the blade, provides lower chances of transmission.
Fencing teaches boys and girls agility, coordination, and tactical skills, while being fun and safe. A lifelong sport, fencing is often referred to as physical chess, engaging students physically and mentally. In addition, fencing gives your child a distinct advantage when applying for college.
Battle Born Fencing Club (located here in Las Vegas) has established an environment with the lowest risk possible for our members and coaches, adhering to CDC and USA Fencing COVID-19 guidelines.
Come try a fencing class! Email us your name and phone number at info@bb-fc.com for more information about our Kids and Adult Beginner Fencing Classes.
Battle Born Fencing Club Announces Summer Camps – 2021
Space is limited to 36 fencers.
$50 deposit non-refundable due at time of registration. Balance due June 6. Waitlist notifications will begin June 7. Registration not complete until payment is received.
Current COVID precautions remain in effect including the requirement to wear a face mask at all times except actively eating or drinking, maintain distancing while inside the club, and temperature checks with COVID screening on arrival. These requirements are subject to change based on USA Fencing and the State of Nevada.
Age 8 – 17
Want a great workout for both the body and brain? Our beginner kids classes are designed to teach you the basics of epee fencing-terminology, positioning, and actions. Classes are held 3 times a week with one-on-one emphasis from assistant coach, and includes equipment!
Sign Up

with
1) Y
our Name 
      2) Phone Number
To be placed in this class
Space is limited!
   

BBFC has implemented COVID strategies including temperature checks at the door, one-way entrance and exit, regular cleanings between classes, and facemask wearing at all times including under the fencing mask during bouting.
Battle Born Fencing Club (BBFC)
1220 S. Rainbow Blvd.
Las Vegas, NV 89146
Pnone:702-838-3320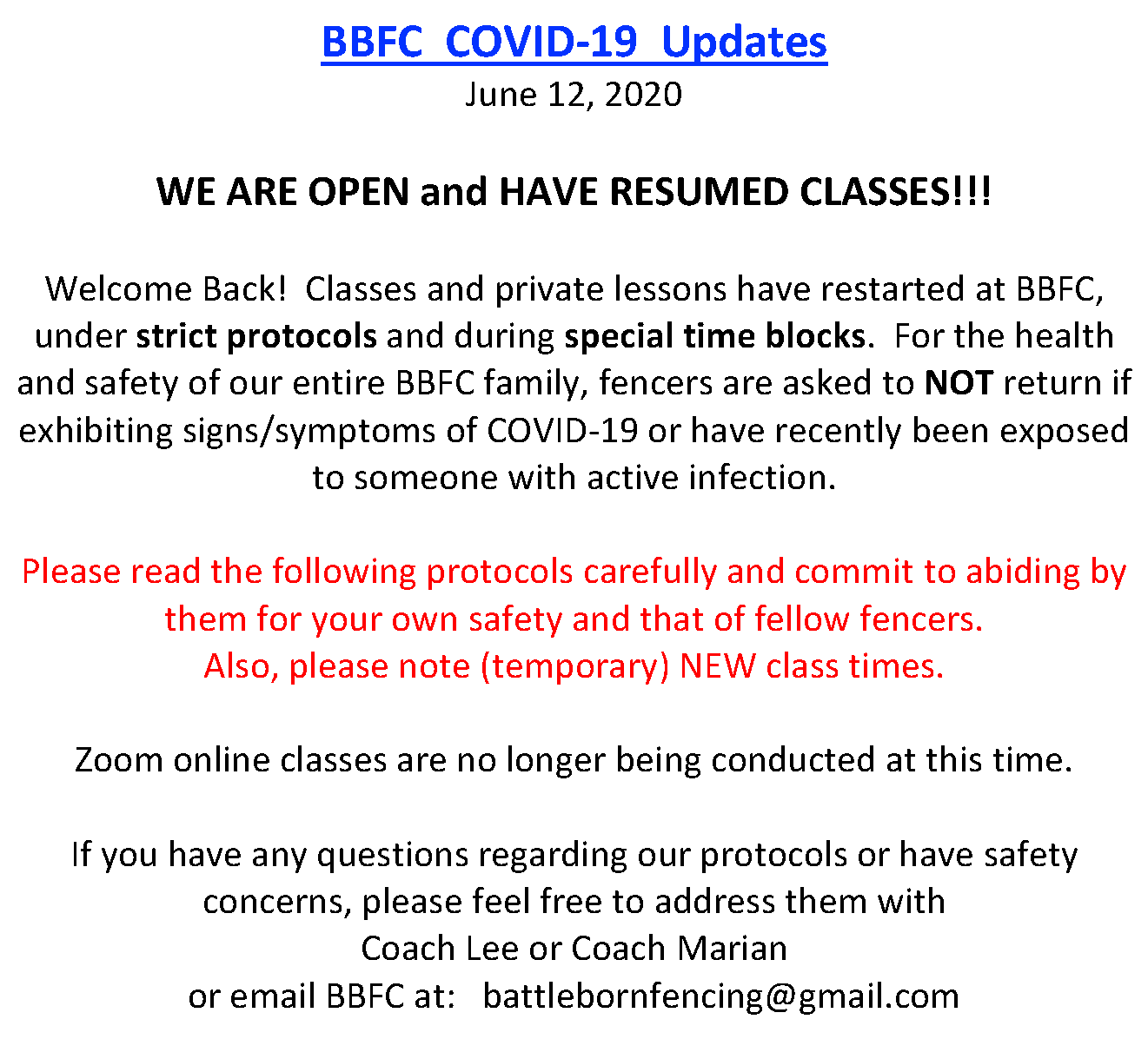 COVID – 19  Fencing Protocols
As Battle Born Fencing Club continues maintaining health protocols, starting June 10th 2021, fully vaccinated fencers may fence without a facemask under their fencing mask. A fencer is considered fully vaccinated if  two weeks have past after their final vaccination dose.
Any fencer who have not been fully vaccinated MUST continue to wear their facemasks.
We will no longer be checking temperatures  on arrival and will continue fist/elbow bumps.
 COVID – 19 Fencing Schedule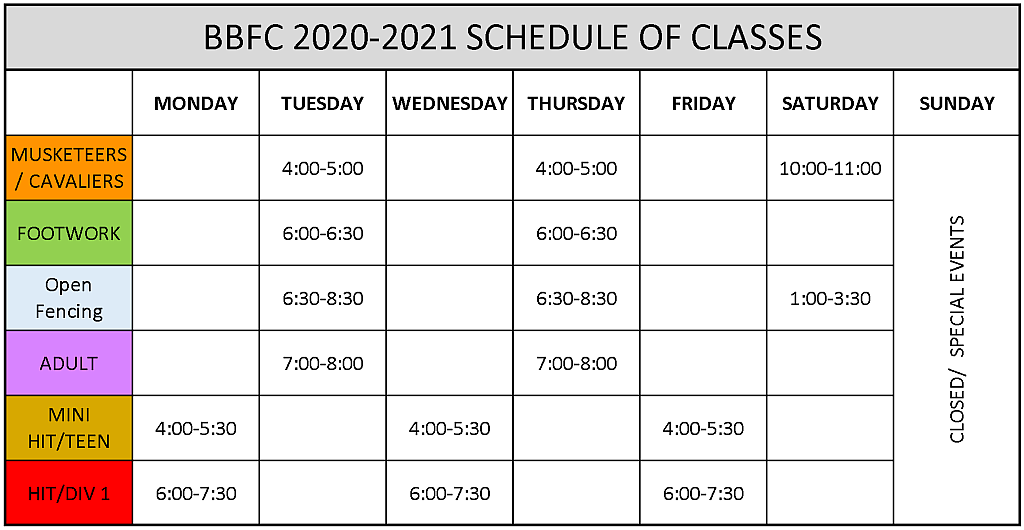 Return to Fencing FUNDRAISER