Battle Born Fencing Club
Las Vegas
#1 Epee Fencing Club in Nevada
BBFC Updates
For Battle Born Fencing Club news and announcements, scroll down on this page to see the latest Newsletter or click Here for past editions.
Fencing teaches boys and girls agility, coordination, and tactical skills, while being fun and safe. A lifelong sport, fencing is often referred to as physical chess, engaging students physically and mentally. In addition, fencing gives your child a distinct advantage when applying for college.
Battle Born Fencing Club (located here in Las Vegas) has established an environment with the lowest risk possible for our members and coaches, adhering to CDC and USA Fencing COVID-19 guidelines.
Come try a fencing class! Email us your name and phone number at info@bb-fc.com for more information about our Kids and Adult Beginner Fencing Classes.
Battle Born Fencing Club Announces
Pre-Summer Nationals Camp  2022 
This camp is headed by the NCAA 2022 Champions Notre Dame Women's Epee Assistant Coach Cedric Loiseau.  We are proud and honored to have coach Cedric at BBFC
Camp is open to fencers 11 years and older, and limited to a total of 40 fencers.  Registration is now open to
BBFC

 fencers only with early bird pricing of $600 until 4/8/22 when the 

BBFC

 price increases to $650. Pay at 

BBFC

 "one-time payment"
Starting 4/11/22, non-
BBFC

members will be allowed to sign-up with the non-member price of $750. Please email for more information!
Space is LIMITED!
BBFC Members – Sign up  HERE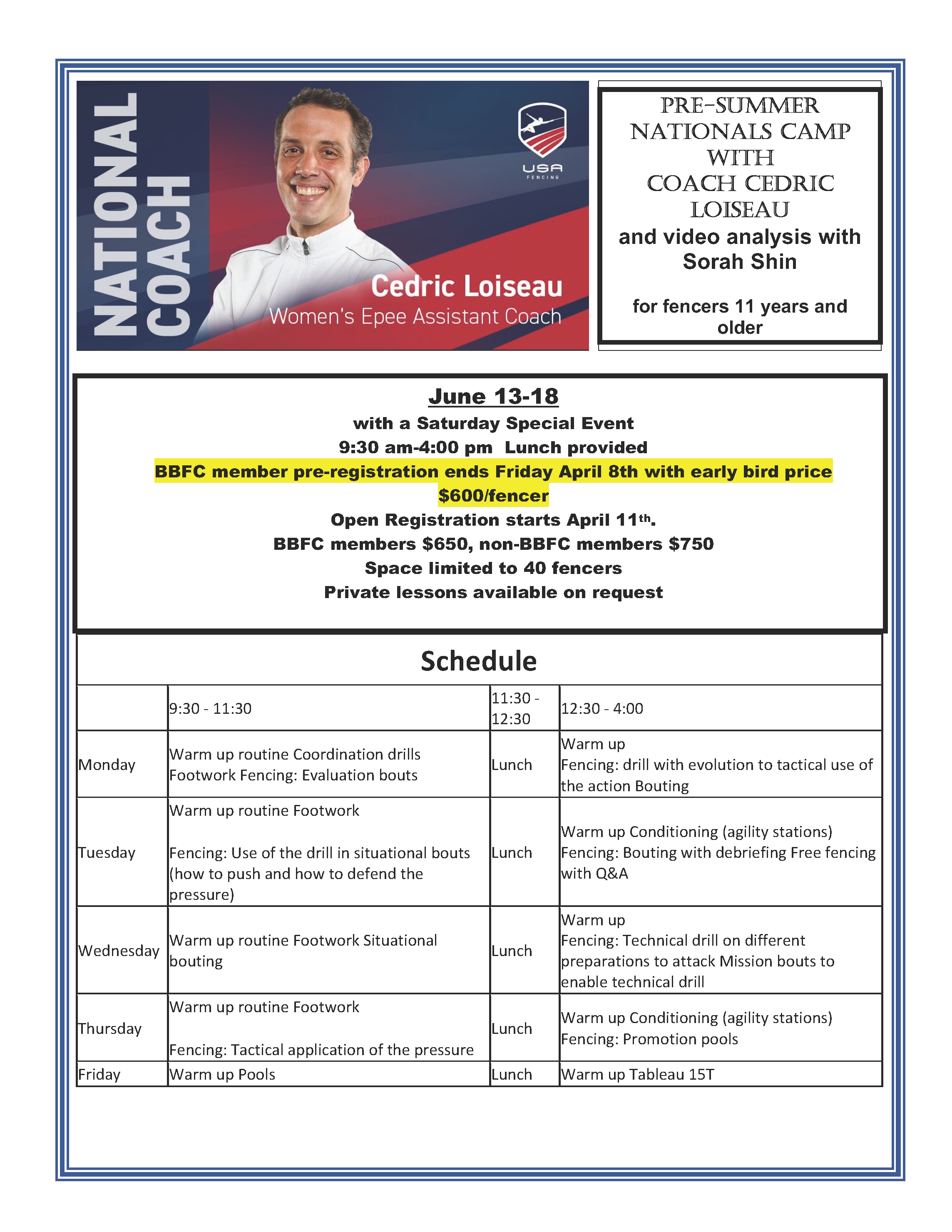 Age 8 – 17
Want a great workout for both the body and brain? Our beginner kids classes are designed to teach you the basics of epee fencing-terminology, positioning, and actions. Classes are held 3 times a week with one-on-one emphasis from assistant coach, and includes equipment!
Sign Up

with
1) Y
our Name 
      2) Phone Number
To be placed in this class
Space is limited!
   

BBFC has implemented COVID strategies including temperature checks at the door, one-way entrance and exit, regular cleanings between classes, and facemask wearing at all times including under the fencing mask during bouting.
Battle Born Fencing Club (BBFC)
1220 S. Rainbow Blvd.
Las Vegas, NV 89146
Pnone:702-838-3320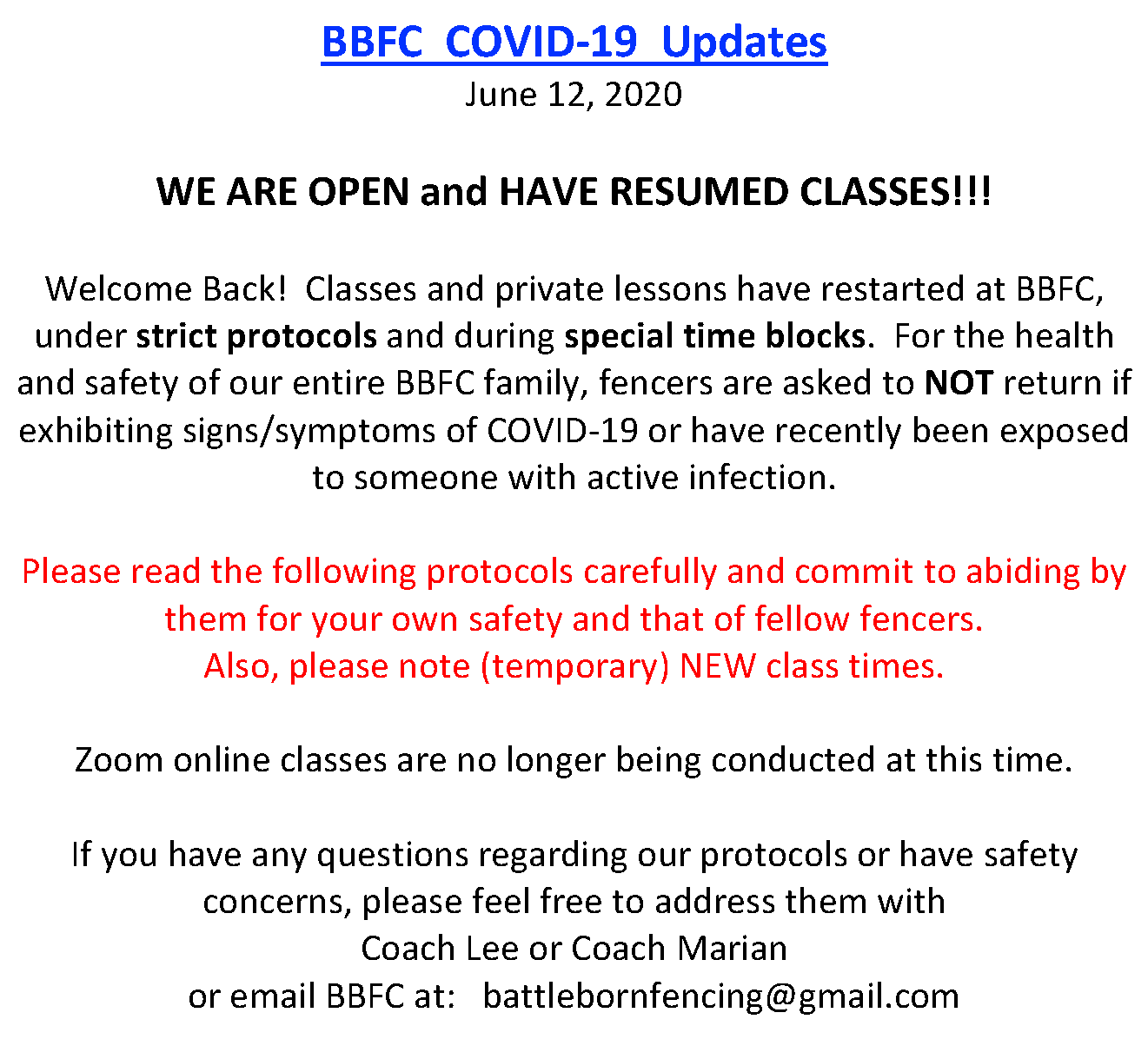 COVID – 19  Fencing Protocols
Battle Born Fencing Club continues maintaining health protocols, with  regular cleanings between classes. Face masks are required for anyone who enters the club including visitors. Fencers are required to wear their facemask during bouting under their fencing mask. We continue with fist/elbow bumps and no handshake.
 COVID – 19 Fencing Schedule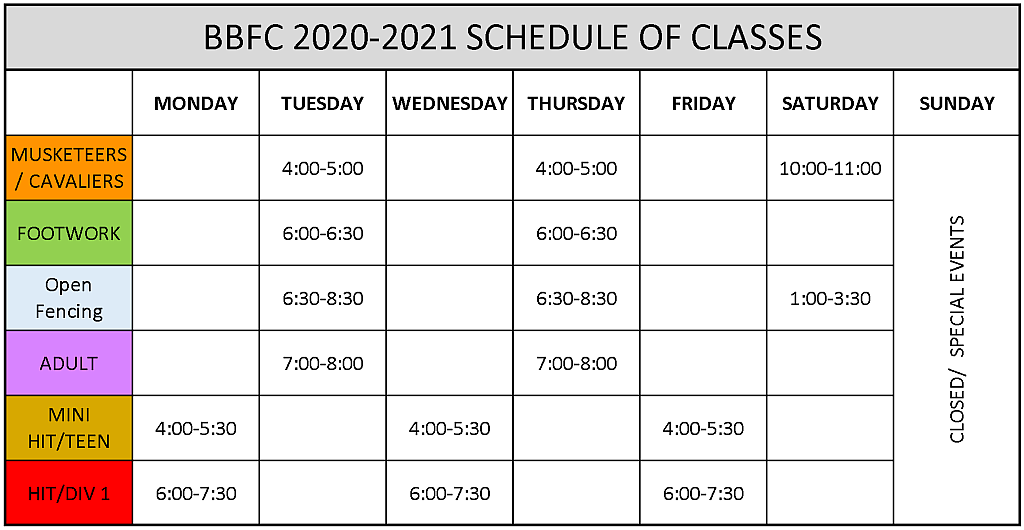 Return to Fencing FUNDRAISER